Teachers Timesavers and Resource Guide
As a teacher, we have no time to prepare quality lessons for our students. We're teachers too! We not only understand, we are in the same boat with you! This section of our web site is dedicated to speed up your day!
Teacher Worksheets
Teacher Worksheets Packs
Teacher Forms
Teacher Forms
Teacher Rubrics
Teacher Rubric Packs
Teacher Graphic Organizers
Graphic Organizers Packs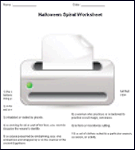 Worksheet and Puzzle Makers
- Quick Puzzles
- Teachers Love It!
Emergency Lesson Plans
- Instant Plans
- For Emergencies
Puzzle Makers
Special Puzzle Makers
Worksheets Makers
Emergency Lesson Plans
Lesson Plans
Teaching Themes
Teaching Tips
Teacher Tools